1. Implementation and Evaluation of the project:
(1). Project Management Boards (PMB) at SUDECOM and Tan Nguyen commune has highly together in project deployment. This was clearly showed in selecting project households which match criteria and project purpose, mobilizing the participation and contribution of beneficiaries for project activities such as technical training, labor for razing to the garden's ground, protection garden fences, digging land for ditches or wells to irrigate vegetables, clearing grass, hoeing soil for vegetables and vegetables, dig irrigation systems or create irrigation water, applying trained techniques in safe vegetable cultivation. The PMBs were also tightenly cooperated in conducting monitor activities in 30 project households.
(2). PMBs at all level have organized 12 monitoring times and guiding to prevent disease for chicken. Through those activities, project officer found out pestilent insect and guide farmers to use probiotics to prevent epidemics in time. Hence, there were no damage to farmers.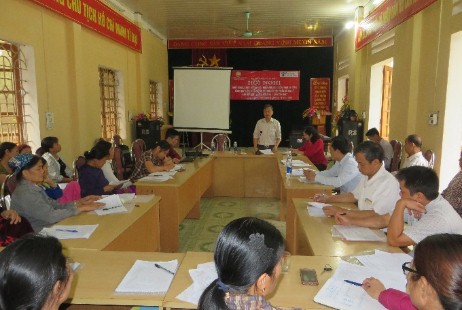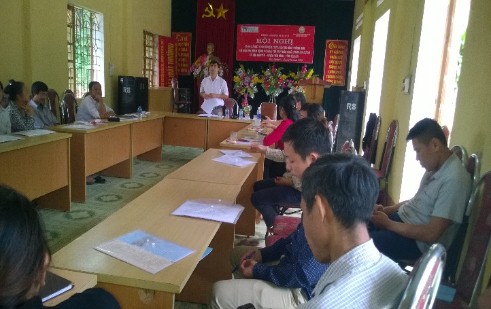 (3) The Project Management Board has evaluated project and confirmed the success of project and drawn the lesson learn from the achievement. It was because of innovated approaching method of this project and different with other old projects which created the high effectiveness for project model. For instance: The project has delivered vegetable seed of the Phu Dien production company, is a prestigious brand in the country, ensuring the quality of seeds when cultivating, caring, pest prevention and harvest apply the right technique. Especially, the project has trained on harvesting, packaging, labeling and connecting the market of safe vegetable. Farmers who participated in the model were very enthusiastic with the practical training and demonstration conducted by SUDECOM such as planting, harvesting in the field / vegetable garden, Market places connect marketing the market of safe vegetable products. At the training courses, farmers have found potential clients such as kindergartens, high schools and semi-boarding schools, restaurants, timber workshops, grocery stores in the commune market. These are potential markets in the commune. Immediately after the training, farmers quickly approached potential clients such as schools for a safe vegetable supply contract. These are encouraging signs of the project's encouraging success. In fact, over the past time, safe vegetables supported by the project were sold out immediately after harvest. Mrs. Thuy at Khe Hum village shared at the closing workshop the project: "How many vegetables I grow, the customers come to buy all, so I do not have to bring to market."
B. Activities of model support
(1). Supporting to organize 2 training courses on techniques of safe vegetable cultivation, and pest and disease control for 40 households who received the project model.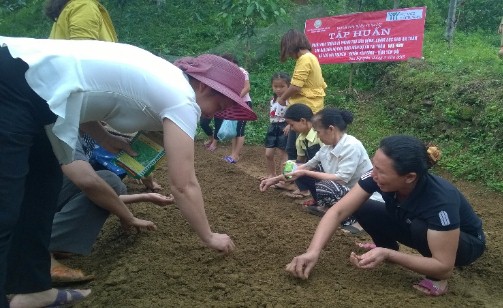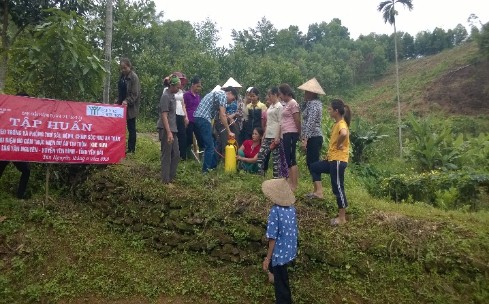 (2). Delivering vegetable seeds for farmers
The project has delivered vegetable seeds for two crops namely summer-autumn crop and autumn-winter crop, including: spinach, red jute vegetable, malabar nightshade, cowpea, heat cucumber in the summer; and small colza, celery cabbage, kohlrabi, cabbage, beans, cucumber in the autumn for 32 households (two households increased by the project plan) with a total area of 17,700 square meters, on average each household produces over 553 square meters, up 10.6% compared with the project plan
(3). Delivering bio-fertilizers, bio-pesticides, sprayers and arrosoirs for farmers
The project provided fertilizer to farmers in total of 3600 kg of bio-fertilizer, 600 kg of nitrogenous fertilizer, 450 kg of potassium, 450 kg of phosphate, 60 bottles of biological products for insecticide and vegetable care.
The project provided 30 sprayers to spray plant protection products and 30 arrosoirs to water the plant for 30 households participating in the project.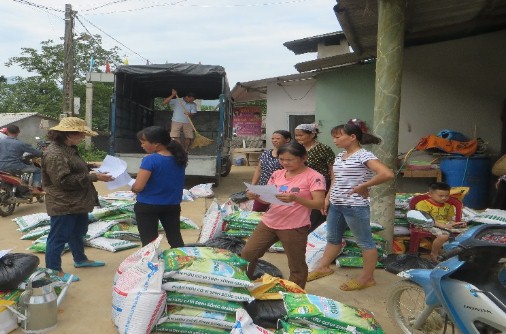 (4). Organizing 2 training courses for 40 household representatives to receive the project model on skills of harvesting, packing, labeling products, marketing products and connecting with the farmers.
40/40 representatives of households participating in the project have fully absorbed knowledge and skills on harvesting, packaging, labeling and access to safe vegetable market. Immediately after training, many women are confident in marketing safe vegetables to schools, restaurants, grocery.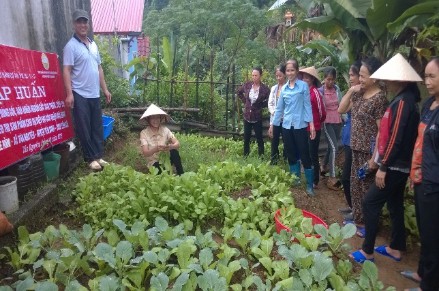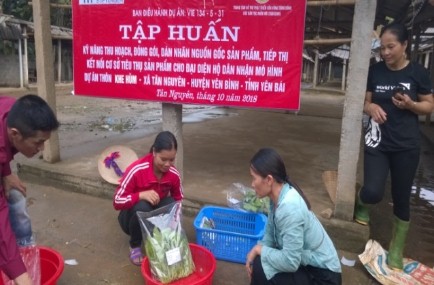 2. Results
- Results achieved exceeded the project plan by 10% compared with the original target (90% of the households have income of 8-10 million / model). 30/30 (100%) of poor ethnic minority households supported by the project with income (except for initial investment costs) reached VND 8,000,000 - VND 10,000,000 / household / model; Of these, 12 households (40%) have invested more in their care; Therefore, the vegetable model has a income of over VND.
10,000,000, such as households of Ms. Xuan, Ms. Nhung, Ms. Do and Ms. Thom in Khe Hum village; Ms. Anh, Ms. Toan, Ms. Luong, Ms. Deng in Trai Phung village.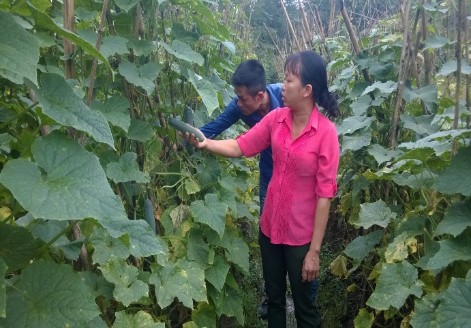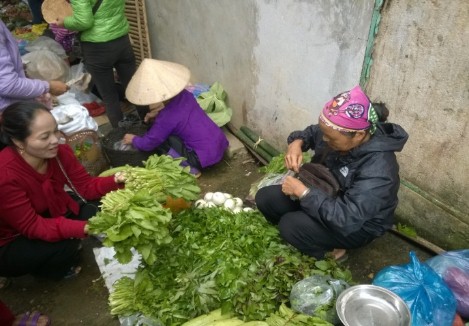 - Contributed to making gradually change in the old production habits in which modern techniques and solution are not applied. By knowing how to apply safe vegetable cultivation techniques, know how to harvest, label, market products, sell products right in the area, so the model generates more income, contributes to poverty reduction and ensure food hygiene and safety for consumers.
- At the closing workshop of the project, the Tan Nguyen Commune People's Committee has highly appreciated the results of the model, has taken the project model as a foundation and planned to continue scaling up the model of safe vegetable cultivation to all 13/13 hamlets of the commune so that the products not only serve the family meals but also provide safe vegetable for the market in the commune and surrounding areas.
- 100% of households have participated in the model affirm to continue to apply technique provided by the project to maintain vegetable cultivation model in order to improve their family income.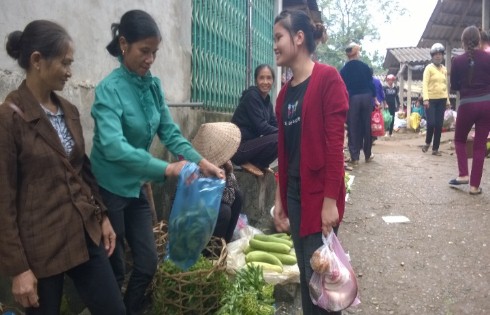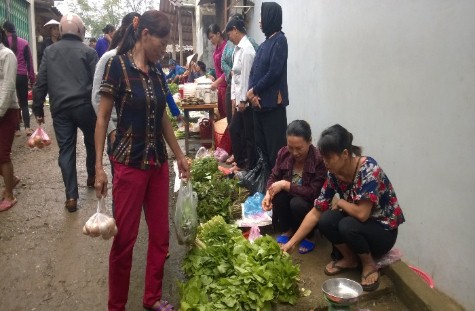 3. Future perspective/ need for further action/ recommendation for further cooperation:
This project is a very success one. It contributed to improve income and reduce poverty of poor ethnic minority household of Tan Nguyen commune.
If the donor agency supports the project like this, the model will be replicated to other poorer ethnic minority villages and communes in order to diversify agricultural and rural products, contribute to sustainable poverty reduction. And to confirm that safe vegetables have prestige and will always have a firm footing on the market.